How do I extend the battery life of my MacBook?
I use my Apple MacBook often without charging it. Especially when I'm working with graphic programs or surf the internet for a long time, the battery drains faster than I'd like. Fortunately, there are all sorts of tricks that make your battery last a bit longer. On this page, I'll give you some practical tips to extend the battery life and I explain how I monitor my MacBook's battery.
---
Tips to extend the battery life
Brightness
I can easily dim the brightness of my screen with the function buttons or with the Touch Bar on my MacBook. My MacBook can automatically adjust the brightness to the ambient light, which costs extra power. I can turn it off via System Preferences> Displays.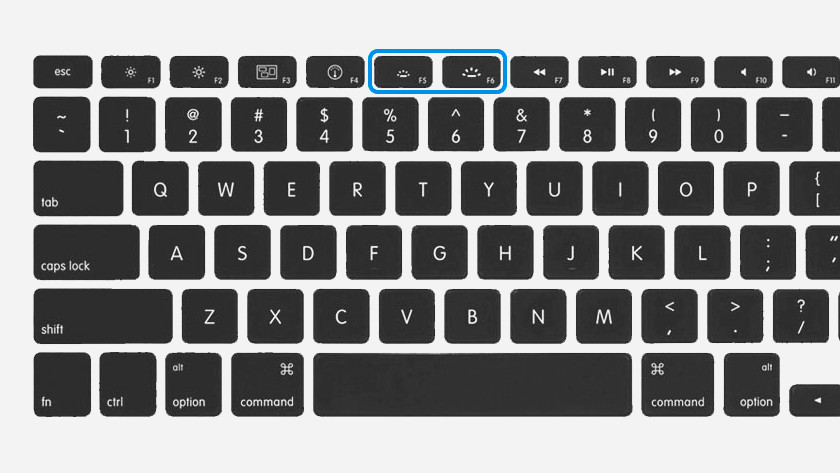 Backlit keyboard
I can also turn off the backlit keyboard with the function buttons on the keyboard. My MacBook can also adjust the backlit keyboard to the ambient light automatically. I can turn it off via System Preferences > Keyboard.
Sleep mode and screen saver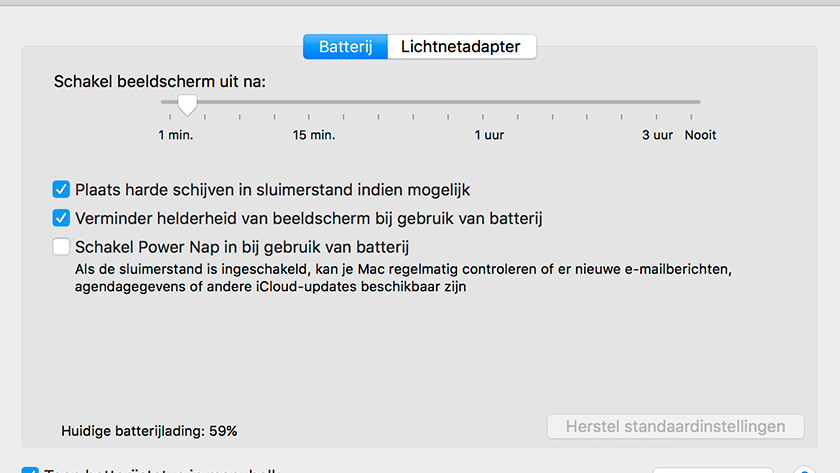 Sleep mode
Under System Preferences > Energy Mode, I select 'battery' to make my MacBook go to sleep mode sooner. That way, my MacBook will switch off and I won't waste battery life if I don't use my laptop.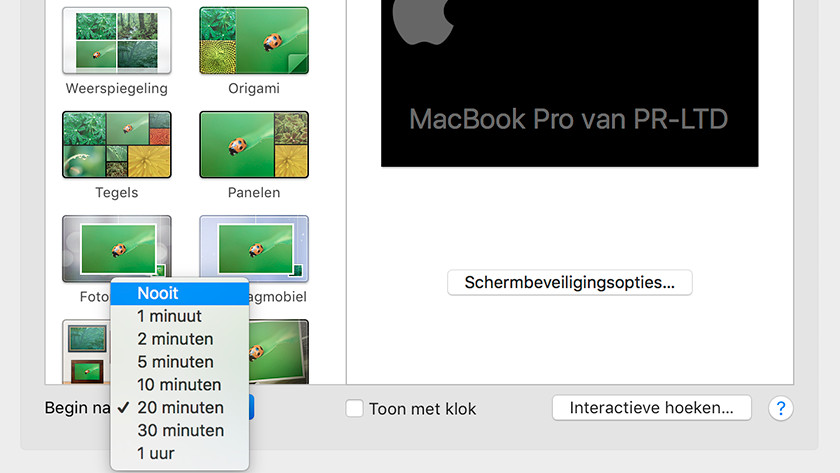 Screensaver
If my MacBook goes to sleep mode quickly, I don't need an energy-consuming screen saver. Via System Preferences > Desktop, and Screen saver, I go to 'screen saver' and select 'never' at the bottom left.
Wireless connections and Flash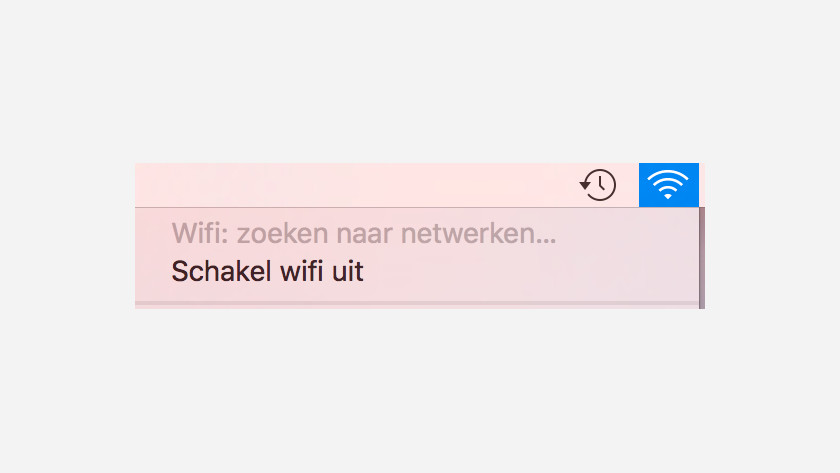 WiFi and Bluetooth
If I'm not using the Internet for a while, I can easily turn off my WiFi via the WiFi icon in the menu bar at the top of the screen. If I'm not using Bluetooth, I can switch it off there as well, via the Bluetooth icon. On the latest generation MacBook, I go to System Preferences > Bluetooth to turn it off.
Flash
The Flash plugin uses a lot of energy unnecessarily. I open Safari and go to Preferences > Advanced in the menu bar, and choose 'Stop plugins to save power'. Another option is to remove the Flash plugin. It's not harmful, because there are fewer and fewer websites that use Flash.
Peripherals and Time Machine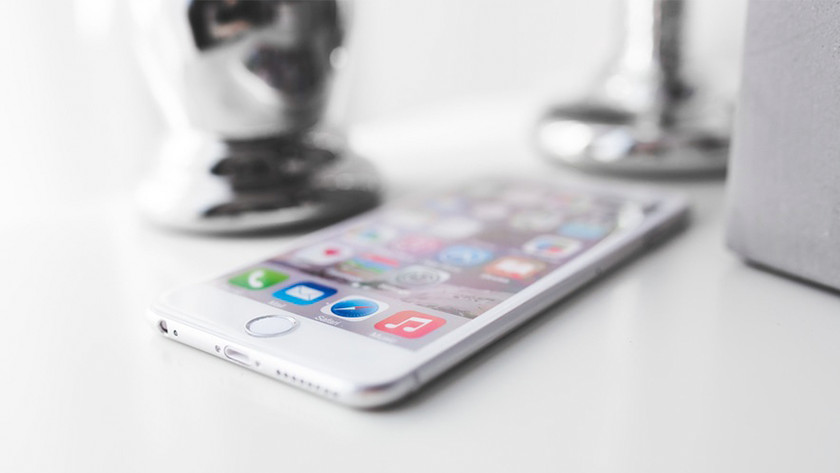 Peripherals
My MacBook uses a lot of power when connecting an external hard drive or charging my iPhone, for example. That's why I disconnect external devices when I'm not using them and charge my iPhone via the power outlet.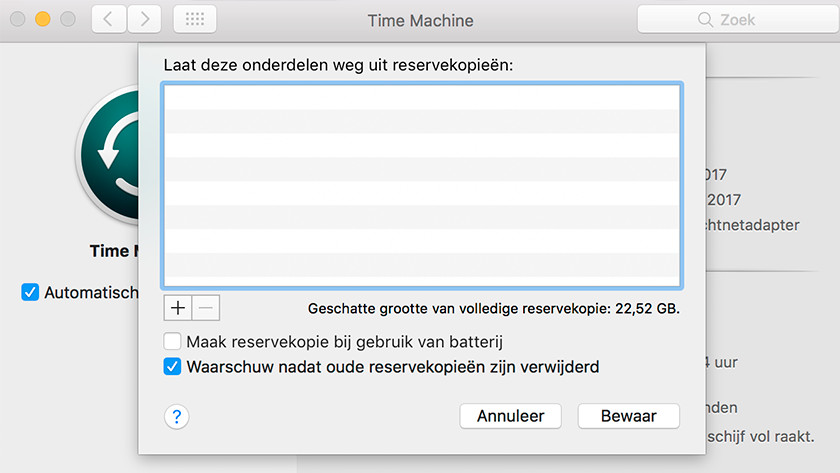 Time Machine
The program Time Machine makes backups of my MacBook in the background. It does so multiple times per day, which uses energy. I can turn off the automatic backups under System Preferences > Time Machine> Options.
Power Nap and active programs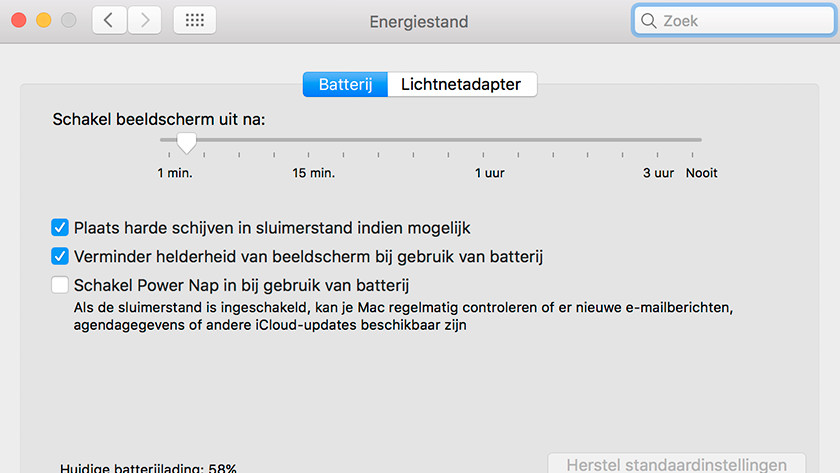 Power Nap
Power Nap is an app I use to synchronize my email and iCloud activities when my MacBook is in sleep mode. As a result, my laptop is almost always using power. Via System Preferences > Energy Level > Battery, I uncheck Power Nap.
Active programs
Via Activity View, I can see which apps are using MacBook's CPU. These may be apps that I don't need at that moment, but still use a lot of power in the background. Click the cross on the top left to close an app.
Spotlight and Mail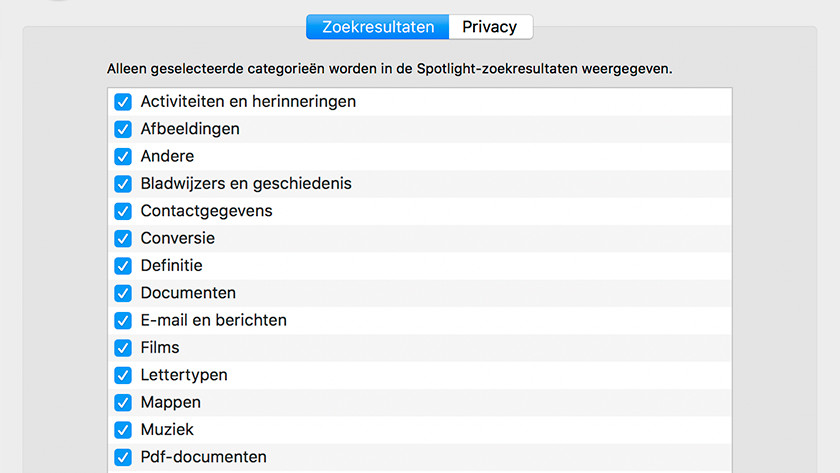 Spotlight
Spotlight indexes the contents of my entire MacBook, which consumes energy. That's why I only switch on the necessary components Spotlight is looking for via System Preferences > Spotlight.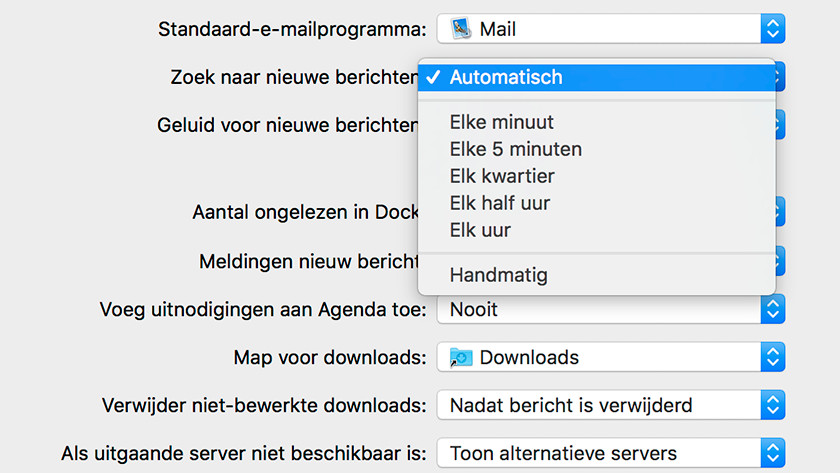 Mail
To save battery power, I don't want my MacBook to look for new emails all the time. In the Mail program, I open Preferences > General and adjust 'Search for new messages'.
From HDD to SSD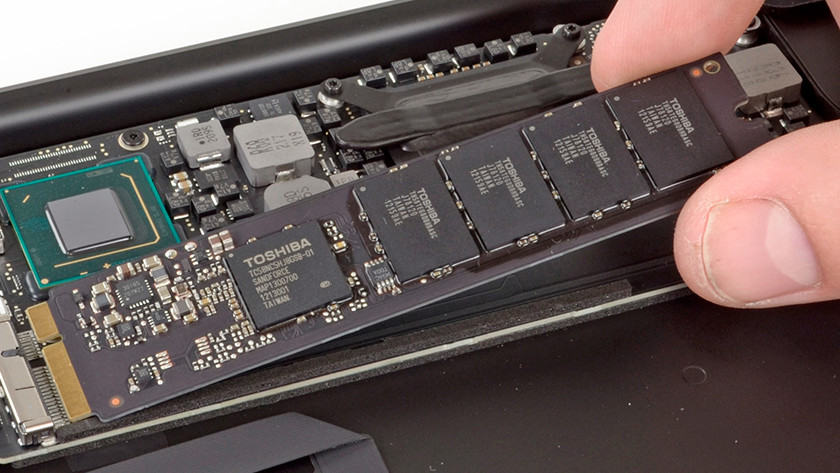 Replace your HDD with an SSD
Older MacBooks usually have an HDD drive. These discs are not as energy-efficient as an SSD, and are generally slower. That's why I recommend replacing the HDD with an SSD.
Good to know: the battery status
Because I often use my MacBook without a power adapter, I always keep an eye on the battery status. My MacBook indicates when my battery is no longer full and when it's time to replace it. I can see if my MacBook's battery is 'healthy' in a number of ways.
Check the battery status
My MacBook knows what condition the battery is in. I can see the battery condition in the menu bar at the top of my MacBook's screen, by clicking the battery icon while holding the Option (Alt) key. If my MacBook indicates that the battery status is 'normal', I know the battery is working properly.
View the charging frequency
The charging frequency indicates how many times my MacBook has been 100% charged. This is called the battery cycle. The battery of MacBooks made after 2009 can survive over 1000 cycles, but after that it's time to replace the battery. MacBooks made before 2009 can handle about 300 to 500 cycles. I use the Apple menu to go to 'About this Mac' and I click on 'System overview'. Next, I click 'power supply' in the left menu to see the amount of cycles.
Article by: