Help after purchase
Your product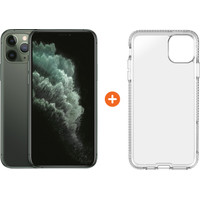 With the Apple iPhone 11 Pro 256GB Midnight Green + Tech21 Pure Back Cover Transparent, you protect the casing against scratches, bumps, and dirt right from the start. The design of the front of the device we've already seen on the Apple iPhone X2. There is one change to the back that you can't miss, though. The iPhone 11 Pro Midnight Green has 3 cameras. You can use the wide-angle lens to capture more image in one picture and you can use the optic zoom without losing quality. The front camera is also considerably improved. Use this 12-megapixel camera to take the best Instagram photos, or even videos in slow motion. The integrated A13 chip is just that bit faster than the A12 chip that we know from previous models. This allows you to navigate through menus faster and boot apps lightning quick. This chip also makes sure your battery lasts longer. One full charge will last you up to 4 hours longer than on older models. The Tech21 cover protects against fall damage without adding a lot of weight to your device.
---
---
Didn't find your answer?
Find an answer to your question quickly and easily via our Customer Service.