Advice on range hoods
You want to buy a range hood, but you can't tell up from down anymore? We're happy to help you make the right choices. First you'll have to decide which type of range hood is suitable for your situation. In addition, it's important to know what kind of exhaust system your home has.
Wall-mounted range hood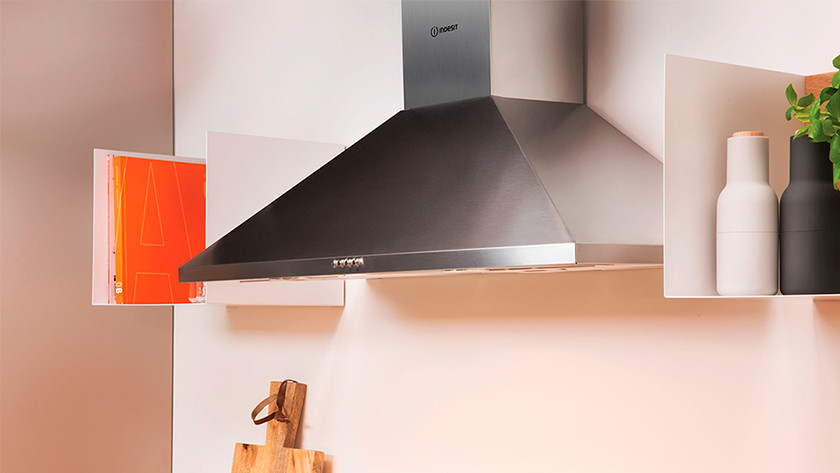 A wall-mounted range hood is mounted on the wall and is available in different versions. The most standard version runs diagonally upwards. In addition, there are models with a flat top. Finally, there are the so-called diagonal models. Diagonal models are higher at the front than at the back, giving you more head space.
Integrated range hood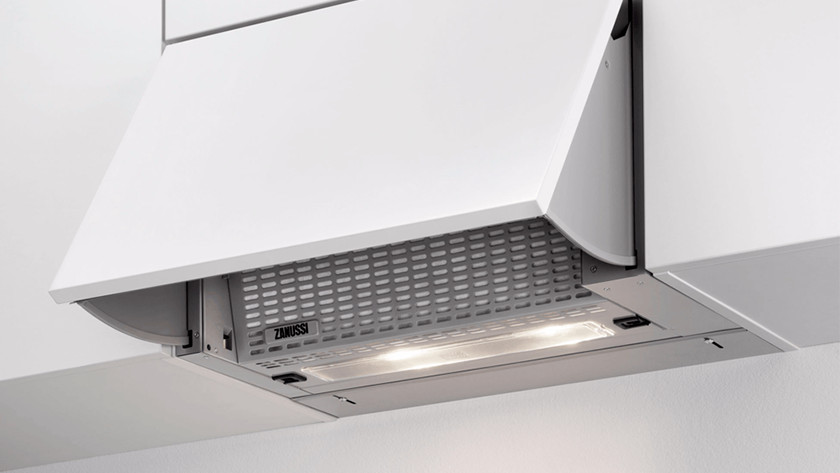 An integrated range hood hangs between two upper cupboards. You equip it with a kitchen panel so that it becomes one with your kitchen. You won't see an integrated range hood until you want to use it and pull it open. When you're done, you can put the front panel back, and you won't see the range hood anymore.
Range hood substructure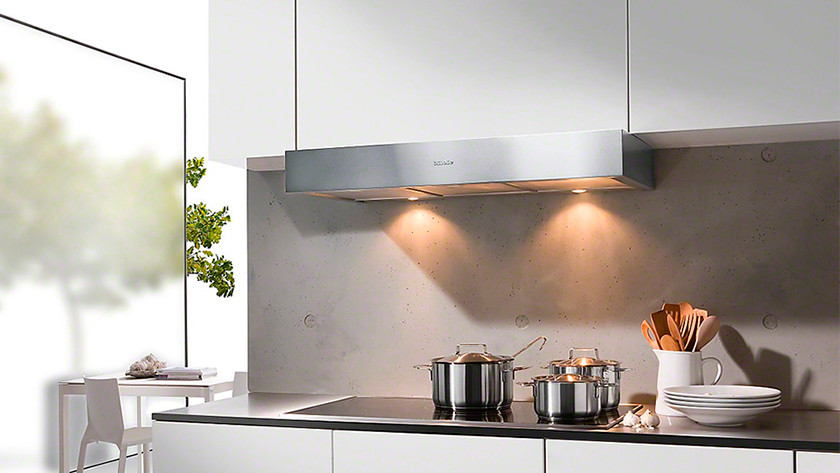 Range hood substructures are similar to wall-mounted range hoods, only without a hood and often less powerful. You can hang this classic range hood model under an upper cupboard or mount it on the wall. If you place a range hood substructure underneath a kitchen cupboard, the air can exit through the cupboard via an exhaust pipe.
Slide-out range hood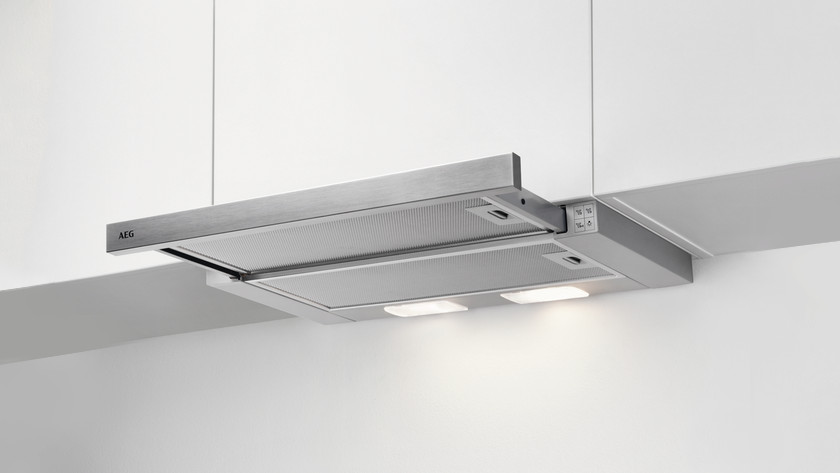 You can easily conceal a slide-out range hood in your kitchen cabinet so you'll only see it during cooking. The slide-out panel comes out from under your kitchen cabinet and extracts all of the cooking fumes. When you're not cooking, the panel is hidden and nicely blends into the rest of your kitchen design. It's important for you to carefully measure the niche dimensions of the kitchen cabinet in which you want to place the range hood.
Ceiling range hood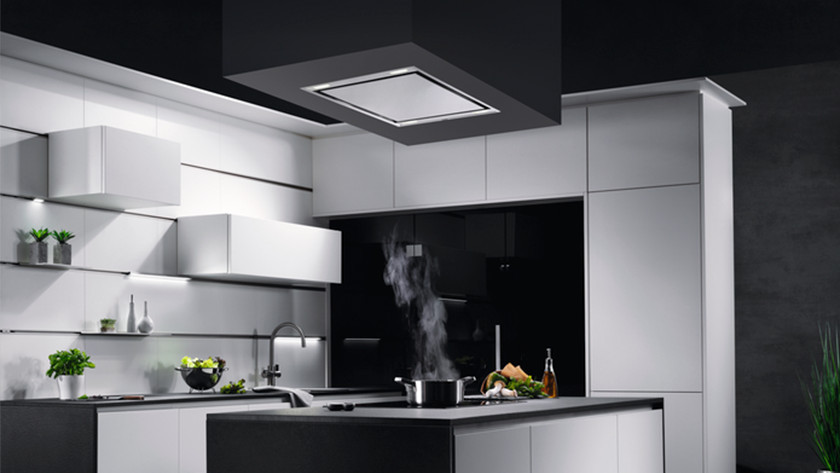 A ceiling range hood can be mounted to the ceiling above your cooking island. An advantage of this is that the range hood doesn't block your view and you won't bump your head into it. This type of range hood is very powerful and suitable for use in large, open kitchens.
Built-in range hood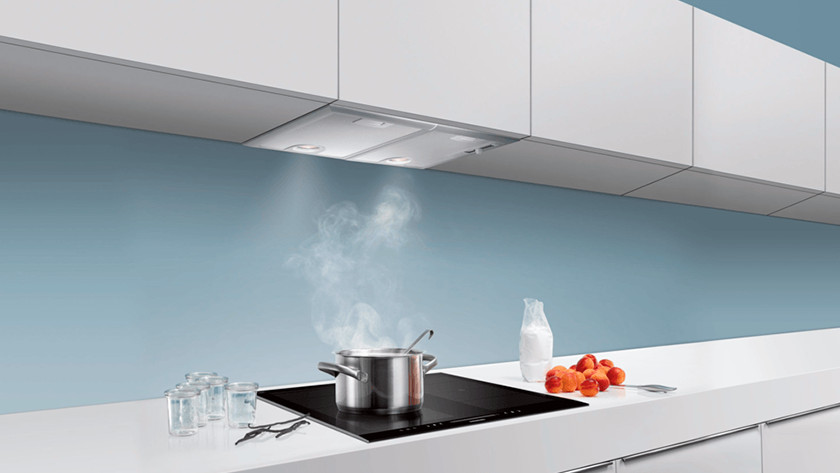 Do you want to see as little of your range hood as possible? Choose a built-in range hood. Built-in range hoods are neatly concealed in a kitchen cabinet. The motor of the device is also in the cabinet. The dimensions of a built-in range hood vary from 53 to 90 centimeters wide.
Island range hood
An island range hood looks like a wall-mounted range hood, but you mount it to the ceiling and not to the wall. This type of range hood can be placed above a cooking island. An island range hood has a high exhaust capacity and is often approximately 90-centimeter wide.
Exhaust systems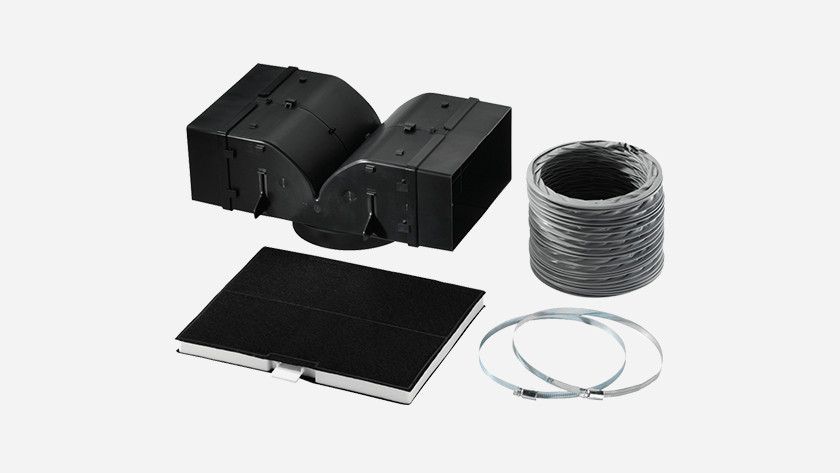 There are 3 types of exhaust systems. Which one you need depends on your home situation. If you have an outward exhaust, you can choose a range hood that can be connected to a ventilation system. If you don't have an outward exhaust, opt for a recirculation system. It's also possible that your kitchen is connected to a central exhaust system. If this is the case, you need a motorless range hood.
Exhaust capacity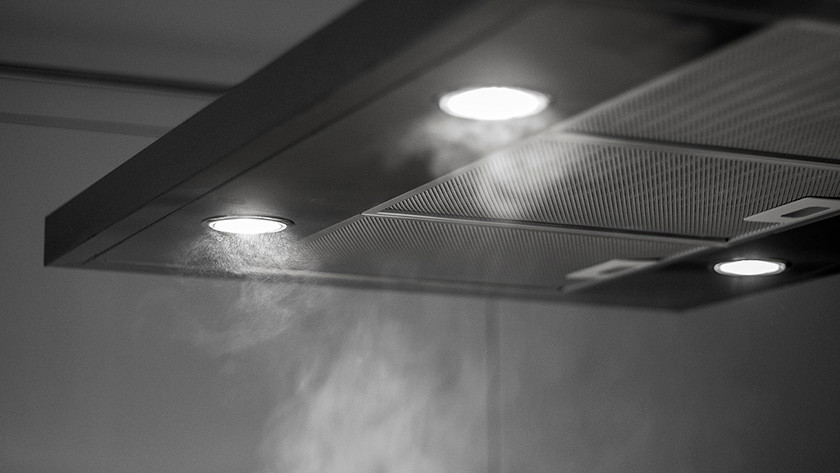 The exhaust capacity is the maximum power of the range hood and is expressed in cubic meters per hour. The capacity is the amound and speed with with the range hood extracts air from your kitchen. There's a useful calculation that you can use to determine how much exhaust capacity a range hood needs for your kitchen. Do you have an open kitchen? If so, it's important to opt for a high exhaust capacity so your kitchen smells nice and fresh again.
Energy consumption
An energy-efficient range hood uses less energy, which is reflected in your annual energy costs. You'll save a nice amount if you choose an energy-efficient model. If its lifespan is 10 years, the savings can amount to as much as € 240. This example is based on an energy-efficient range hood with energy label A+. The energy label of a range hood can be found on the label.
Setup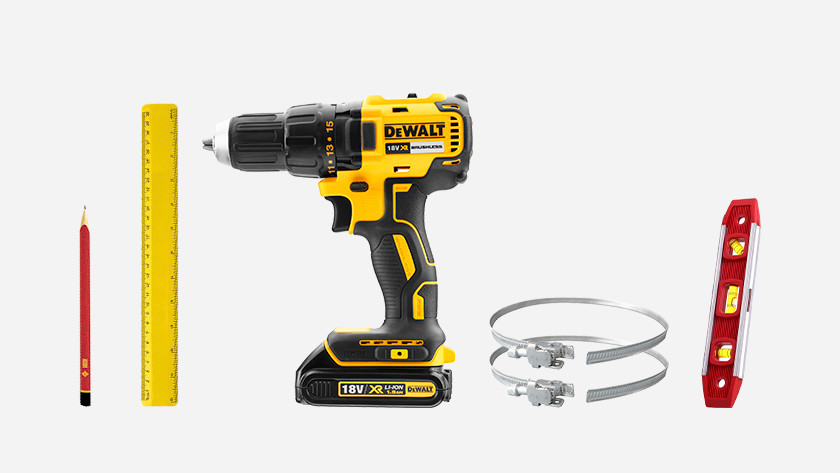 Installing a range hood is a complicated job, so make sure to read the manual carefully. Always draw the center line on the wall so you can be sure the range hood is positioned above the cooktop. Always measure several times before you start drilling. Follow the manual step by step during the installation.
Use and maintenance
Want something extra on your range hood? Opt for a cool function, such as a range hood that always use the right exhaust capacity because it's connected to the cooktop. Or a range hood that gives you a signal when you need to clean the grease filters. To ensure that a range hood continues to extract properly, it's important that you keep the filters clean.
Did this help you?